WILKES-BARRE (April 28, 2016) – The Greater Wilkes-Barre Chamber of Commerce recently announced that it has selected Patrice Persico, Director of Alumni Relations and Annual Giving at King's College, as the 2016 ATHENA™ Award recipient. The international award, sponsored locally by Riggs Asset Management, honors an individual for professional excellence, community service and assisting women in their attainment of professional excellence and leadership skills.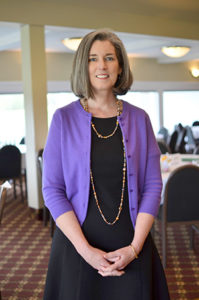 Persico will receive the award at the Chamber's Extraordinary People Inspiring Community (EPIC) Celebration, sponsored by Wells Fargo, at 5:30 p.m. on Tuesday, June 7, 2016 at the F.M. Kirby Center, Public Square.
"Patrice's active participation in both professional and volunteer endeavors exhibits her keen sense of pride for the region and her desire to advance Northeastern Pennsylvania as a place for all to live and prosper," said Chamber of Commerce Vice Chair and nominator Mary Erwine, President of Erwine Home Health & Hospice.
"She has quietly served our community for many years," added co-nominator Sue Kluger, former executive director of Leadership Wilkes-Barre. "She is an example to emerging women leaders and confidant and peer to current women leaders. From the YMCA to Community Health System, she has supported and aided other women in the region to move into leadership roles."
"Patrice's business accomplishments reflect three decades of leadership in all three of our community's key sectors – Academia, Business, and Community," said Chamber CEO Wico van Genderen. "Her contributions to the community are indeed Epic!"
Photo Resource: http://cdn.wilkes-barre.org/headshots/Persico-Patrice.jpg 
Media Contact: John Dawe, CFRE – 570-408-1741 – john.dawe@wilkes-barre.org