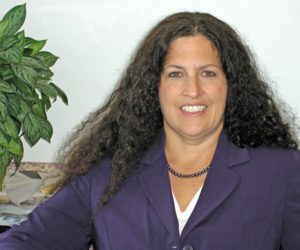 WILKES-BARRE (May 6, 2016) – The Greater Wilkes-Barre Chamber of Commerce announced Teri Ooms will be honored at its Extraordinary People Inspiring Community (EPIC) Awards with the Innovator of the Year award.  Sponsored by Wells Fargo, the EPIC Awards will be held at 5:30 p.m. on Tuesday, June 7, 2016 at the F.M. Kirby Center for the Performing Arts, Public Square, Wilkes-Barre.
Ooms is Executive Director of the Institute for Public Policy and Economic Development, a position she has held since its formation in 2004.  Under her direction, The Institute has completed more than 100 client and community based studies. These studies have resulted in new jobs, new programs, sustained initiatives, and new legislation throughout Pennsylvania and in New York.
"Teri has worked closely with the team that recently launched the Wilkes-Barre Connect initiative. This program is innovation in itself.  The purpose of the program is to foster the entrepreneurial spirit in the region and increase business and job creation, retention, expansion, and attraction," wrote nominator Nimita Patel, a research assistant at the Institute. "If an innovator is indeed a person who introduces new methods, ideas, or products – Teri Ooms is an innovator to the core."
"Innovation is one part a passionate idea and one part science, Teri Ooms embodies both.   Her work at the Institute is data driven and adheres to lean principles and infrastructure.  At the same time she is naturally curious and entrepreneurial.   Her ability to create a data driven innovation environment that breeds and builds innovation momentum makes Teri the ideal recipient of the Innovator of the Year Award," added Chamber CEO Wico van Genderen.
Ooms joins already announced honorees Volunteer of the Year Kathi Bankes and ATHENA Honoree Patrice Persico.
Information about the event, including sponsorship and commemorative program book advertising is available by calling 570-823-2101 ext. 724 and visiting http://epic.wilkes-barre.org.
Media Contact: John Dawe, CNP, CFRE (570-408-1741)