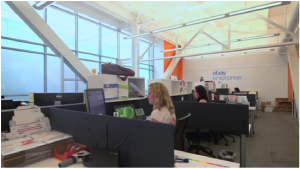 On Friday, June 19th, eBay publicly announced the expansion of their space in the Greater Wilkes-Barre Chamber's Innovation Center. This development increases their 3rd floor space from 8,500 square feet to 14,000 square feet, and will create 35-40 new jobs in the next 18 months. These jobs will be substantial, with a salary of over $50,000 a year. Mike Jones is actively recruiting recent graduates from our local world-class colleges and universities to fill these positions.
During the press conference on Friday, Mike Jones gave attendees a peek of the space, and revealed a renewed five-year lease in the Innovation Center.
The expansion announcement featured speakers Mike Jones, Head of Performance Marketing for eBay; Wico van Genderen, President and CEO of the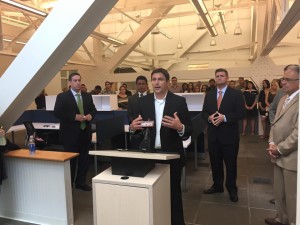 Greater Wilkes-Barre Chamber of Commerce; State Senator John Yudichak; and State Representative Eddie Day Pashinski.
They spoke about eBay's role in expanding our developing innovation district in the downtown area. With the added eBay space, the Innovation Center has now achieved 92 percent occupancy, with a total of 14 companies and approximately 140 employees.
An innovation districts forms from partnerships between close-quartered educational institutions, start-up companies, established businesses, office spaces, retailers, and incubators and accelerators. These districts become interconnected hubs of economic and entrepreneurial development, driven by collaborative advancement and synergistic networks.
eBay's expansion and new job creation brings us one step closer achieving our revitalization goal of making downtown Wilkes-Barre an Innovation District, and claiming the City of Wilkes-Barre as one of America's Best Communities.
Thanks to the support of Frontier Communications and our local sponsor Scripps Network Interactive, the City of Wilkes-Barre was recently named a Quarterfinalist in Frontier Communications' competition designed to identify America's Best Community.
For more information on eBay's expansion, check out WBRE's coverage of the event at http://www.pahomepage.com/story/d/story/ebay-to-expand-in-the-diamond-city/92909/S6-tKc1uLEaBwXDO6n7n0g