WILKES-BARRE (May 6, 2016) – The Greater Wilkes-Barre Chamber of Commerce announced Kathi Bankes will be honored at its Extraordinary People Inspiring Community (EPIC) Awards with the Volunteer of the Year award.  Sponsored by Wells Fargo, the EPIC Awards will be held at 5:30 p.m. on Tuesday, June 7, 2016 at the F.M. Kirby Center for the Performing Arts, Public Square, Wilkes-Barre.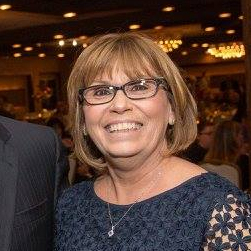 Bankes is Private Dining Manager at Ruth's Chris Steak House, Elixir Bistro, and Wolfgang Puck, and a hospitality industry veteran with Metz Culinary Management.
"Not only does Kathi dedicate much of her own time to volunteer for multiple community causes," said nominator Maureen Metz, "Her enthusiasm consistently inspires others to do the same. Her involvement with the American Red Cross, Greater Wilkes-Barre Association for the Blind, American Heart Association, the Chamber's Women's Network, and numerous other organizations she has helped over the years is truly remarkable."
"Because of her many efforts, Kathi has earned the respect and gratitude of those for whom and with whom she serves.  She is known for her outgoing and friendly manner, intelligence, work ethic, positive attitude, teamwork mentality, and commitment.  Providing the building blocks for numerous nonprofits is a natural for her," wrote co-nominator Bobbie Steever of TFP Limited in a letter of support.
"Kathi is driven to meet and exceed expectations with any challenge she is given. It is this work ethic paired with her passion for community that so many organizations in our region are better because of," added Chamber CEO Wico van Genderen.
Bankes joins already announced honorees Teri Ooms, Innovator of the Year and Patrice Persico, ATHENA Honoree.
Information about the event, including sponsorship and commemorative program book advertising is available by calling 570-823-2101 ext. 724 and visiting http://epic.wilkes-barre.org.
Media Contact: John Dawe, CNP, CFRE (570-408-1741)